The Emergency Service for all your deliveries 0800 84 999 66
Vehicles - Our Fleet
Our fleet of motorcycles, small and large vans are well maintained, modern and regularly serviced. We rely on them to deliver and we insist on being as environmentally kind as is possible in our line of business.
This diagram illustrates our most popular loads and vehicles.

Motorcycle Top Box
Max Payload: 10 kgs
(40 x 30 x 15 cm)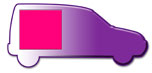 Small Van
Max Payload: 400 kgs / 1 pallet
(150 x 115 x 110 cm)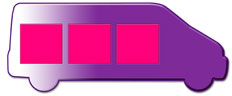 Long Wheel Base Van
Max Payload: 1450 kgs / 3 pallet
(330 x 175 x 124 cm)

4 Metre Van
Max Payload: 1250 kgs / 4 pallet
(410 x 175 x 124 cm)
Dimensions of your parcel are always discussed before we arrange a collection, so we can recommend a vehicle most appropriate for the job.
If required, we have a custom made ramp which may be used to load wheeled items, such as flight cases.
Goods carried in our vehicles are covered by Goods in Transit Insurance up to a value of £15,000 per consignment in vans or £5,000 when transported in a locked top box on a motorcycle.
All measurements are length, height and then width.
If you have something larger to deliver, please contact us – we can organise a 7.5 ton or an artic lorry.